---
Welcome to chasetheplains.com!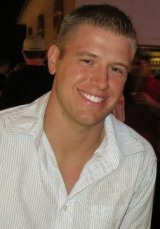 Hello my name is Randy Hill and I am a former meteorologist currently residing in Sioux Falls, SD. I was a Forecast Meteorologist for WindLogics in St. Paul, MN, a subsidiary of NextEra Energy Resources (NEER) based out of Juno Beach, FL where I specialized in forecasting for energy traders for 8 years. In March of 2016, I decided it was time to move closer to home and start a new career. However, I still have a passion for forecasting and will continue to do it in my spare time.

I grew up in Mitchell, SD and became interested in severe storms at the age of 8, when on June 16,1992 a F-2 tornado nearly hit Mitchell. This combined with seeing the images of the destructive and deadly F-5 tornado that hit Chandler, MN on the same day, I became terrified of severe storms, especially tornadoes. So terrified that I became fascinated with them!

I graduated from Mitchell High School in 2003 and from Minnesota State University, Mankato in 2007 with a Geography Professional degree including an emphasis in Atmospheric Science and GIS, and a minor in Computer Technology. In my free time you will find me in the gym working out, or playing sports. I am also a huge Minnesota sports fan!

I originally started this site to track my storm chasing adventures and will continue to do so. As time has gone on, I don't chase as frequently as I used to, but still enjoy using this site to post forecasts, especially ahead of winter storms. This site will consist mostly of forecasts for South Dakota and Minnesota, especially for Sioux Falls and the Twin Cities.

As far as chasing goes, I stick mostly to the northern plains (Minnesota, South Dakota, North Dakota, Iowa, Nebraska). Since I have spent my entire life between Minnesota and South Dakota, I feel a little guilty if I miss a tornado in either state.
---
Chase Statistics

Lifetime
June 24th, 2003 - Present
Chase Days:
45
Busts:
18
Miles Traveled: 21,385
Tornadoes:
34
Largest Hail:
Softball - 4.00"
2018
Chase Days: 0
Busts: 0
Miles Traveled: 0
Tornadoes: 0
Largest Hail: None
If you have any questions or comments please contact me at
randy@chasetheplains.com
---