---
2012

Saturday April 14th, 2012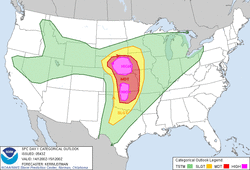 I started off the 2012 chase season by heading to my 'home base' aka my parent's house in Mitchell, SD on Friday night. I woke up Saturday morning and saw nothing but clear blue skies. I left Mitchell at 9:30 am to head south to my initial target of Grand Island, NE. I planned on sticking to the warm front/triple point that looked to extend across southern Nebraska by the afternoon on Saturday. I had thought that this looked like the best area for the last couple of days, and became a little worried when the SPC agreed with me. You can see the high risk outlook from Saturday morning to the left, as well as the tornado outlook below.

---


Day 1 tornado outlook from Saturday morning.
---
As I headed south and crossed into Nebraska on highway 281, I noticed the anvil from a thunderstorm that had exploded to the south of me. This was an elevated storm north of the warm front, so it had very little tornado potential. I filled up with gas in O'Neill and decided to jog a little farther southeastward to see what this storm looked like. It was severe thunderstorm warned and was showing extreme DBZs on the radar. This told me it was filled with hail so I drove around the backside of it. I still ran into some quarter size hail, but missed out on the big hail. The storm just dumped baseball to golf ball size hail on the city of Petersburg, NE as I drove through it. There was also a bit of hail accumulation on the side of the roadways. I left this storm and kept pushing south towards the target area. About a half hour later the same storm would move through Norfolk, NE and dump an incredible amount of hail, enough to make the area look like it was just hit by a snowstorm!

As I was maneuvering around this storm to the north, other storms exploded to the south over north central Kansas. This was exciting yet disappointing at the same time. Storms were developing much earlier than expected, but they were also inhibiting daytime heating for the main event later in the afternoon. These storms ended up producing a few rain wrapped tornadoes, and also produced a tremendous amount of rain across southeastern Nebraska.
I stopped for a quick bite to eat in Aurora, NE and then had a decision to make. It was 2 pm and the late morning convection had pretty much washed out the warm front in Nebraska. There was clearing to the west across southwest NE, near the low pressure/triple point, and there were more storms developing over the Oklahoma panhandle and southwest Kansas. I had already driven over 200 miles south, and thought another 200 miles south for storms that might not hold together was a bad idea. I decided to head west towards North Platte, NE where clearing had taken place, and cumulus congestus were already developing. I was still worried as temperatures had only climbed to the low 70s in that area.
As I was driving towards North Platte I noticed towering cumulus trying to develop to my south. This was near the KS border and in an area of higher instability. This is where I really wanted to go, but every time a tower went up, you could see it being sheared off by the very strong jet stream. I made it to within 20 miles of North Platte and got a view of the storms developing in that area. I was unimpressed by what I saw, and finally back to my southwest, the original storm I wanted to chase took off. I quickly headed back towards that storm, and missed it producing a tornado by about 20 minutes. When I finally caught up with this storm, it had moved into rain cooled air, and was done producing tornadoes.

Lessons Learned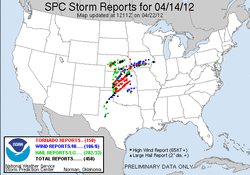 Overall, It was a tough day for me. I put on 830 miles and did not see a tornado. I did see a number of storms though including the big hailstorm that moved through northern Nebraska during the morning. The late morning convection destroyed the warm front setup, and kept the long lived tornadic supercells confined to Kansas and Oklahoma. When I was making a decision in Aurora, I knew I should head farther south to the warm sector and higher instability. Even though the storms were a long ways away at that point, they held together and produced a number of very large tornadoes. This included the storm that produced large tornadoes south of Salina, KS, which would have been well within my reach had I kept moving south.. There was just not enough warm air and instability that made it into southwest Nebraska. The good thing though is that this chase helped me shake off a ton of rust that included a rough 2011 season. It is only mid-April and most of my chase days come in May and June. Even though this could be one of the best setups we see all year, getting the kinks out of the way should only help with more chase days ahead in the next few months.

---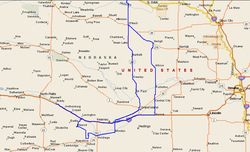 Chase map for the day.

---
2011

5/10/2011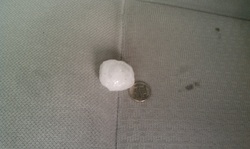 I started off the day on a storm that developed southeast of Sauk Centre, and stuck with it until it died off around Royalton. That's when I headed southeast to check out the two storms merging west of Foley. This was the storm I remained on until after dark near the Milaca area. This storm did become surface based for about an hour, and developed a wall cloud that was weakly rotating. But as impressive as it looked on radar the rotation underneath it remained marginal. Overall though it was a pretty solid day of chasing, especially for early May in Minnesota. I drove through more than enough hail and saw a lot of lightning. I Captured one very close lightning strike that hit a power pole a couple of poles in front of me. This is located about 1 min into my video posted below. This is the closest I've been to a lightning strike, but as you can see in the video there was a vehicle parked right next to the pole that was struck. That was a close call for whoever was in that vehicle!
The storms just did not have enough wind shear to work with on this day, which explains the la
ck of tornadoes that were produced. There was only one tornado report near St. Michael, MN that caused minor damage. Here is the
link
to the National Weather Service's detailed assessment of the storm reports from that day. Most of the storms also remained relatively elevated as well, which inhibited tornado development.
---
Chase Map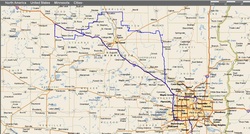 Miles Traveled: 303
Tornadoes seen: 0
Largest Hail: 2"


---
---