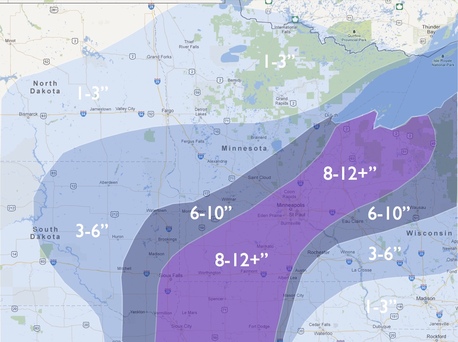 It's been awhile since I've had to talk about a major winter storm affecting the Twin Cities. That changes today! The last storm to bring 6"+ of snow to MSP was February 20-21, 2014. It appears that streak could come to an end as a major winter storm is likely to affect the area Monday-Tuesday.
A wide swath of 6"+ is possible from eastern South Dakota through southern Minnesota, with the heaviest band of 8"+ possible from Sioux Falls through the Twin Cities.
Deep, Gulf of Mexico moisture will surge northward over very cold air. Temperatures at MSP should remain in the low to mid 20s for the duration of the event. That will set the stage for an efficient snow maker, with the possibility of convective banding and snowfall rates ranging from 1-3" per hour.
I don't like to compare any snow event to the extremely rare Halloween blizzard of 1991, but this does have some similarities. The current surface low is tracking southeastward along the Rio Grande on the Texas/Mexico border. This low will strengthen across eastern Texas, near the Gulf of Mexico, then move northward, similar to the Halloween blizzard. That event also occurred during a strong El Nino, comparable to this year.
Timing
Snow will begin late Monday morning across southern South Dakota and Minnesota. Snow will become possible after 1pm in the Twin Cities, and affect the evening rush hour.
The heaviest snow will fall between 6pm-midnight Monday night, where snowfall rates of 1-3" per hour will become likely.
Snow will quickly diminish overnight into early Tuesday morning, with the majority of the snow falling before sunrise Tuesday morning.
Confidence
My confidence is high - 70% - that we'll see heavy snow close to the ranges I drew above. Other than about 2 runs, the most reliable and accurate model - the ECMWF - has been locked onto a similar solution for several days.
Unlike other storms where we have to wait for the surface low to redevelop on the lee of the Rockies, this low/trough is already moving across Texas. This is why I believe the ECMWF did not budge with either run today.
Uncertainty
Even with relatively high confidence, some things could still go wrong. The American models are all over the place (like usual). Now that we're less than 48 hours away from the beginning of this storm, I would like to see more consistency.
One thing the American models never handle well is occluding surface lows. These models always push the low too far east. That's exactly what they are doing with this system, which is another reason I prefer the ECMWF solution.
Too much cold, dry air to the north could also become an issue. This could push the storm further south, or allow too much dry air to limit snowfall.
There's also the possibility that precipitation could begin as freezing rain. However, precipitation should quickly cool the air aloft, resulting in a quick changeover to snow.
Most signs point to this becoming a major snow storm for the Upper Midwest, including the Twin Cities. Because this is an unusual storm system, with not much in the way of good analogs, it is still hard to go all in on even heavier snow for the Twin Cities. If the ECMWF remains consistent tomorrow, my forecast could still be too low.
This warm side of this system has already left its mark across the Dallas/Ft. Worth metro area this evening. A major tornado moved through the eastern Dallas suburbs of Rowlett, Garland, and Rockwall causing significant damage and reports of (Edit: 11 deaths) so far. Thoughts and prayers go out to the victims, families, and anyone affected by this storm. Image of this tornado is below, and was taken by
@Basehunters
.